Weekly Web Round-Up: Week of November 9, 2012
Last Halloween, Jimmy Kimmel challenged his viewers to tell their kids they ate all the Halloween candy. Since it was so popular, Kimmel challenged his viewers again this year.
I'm sure you remember last year's storm on Halloween that caused a lot of towns to postpone trick-or-treating, and I know many of you are still feeling the effects of this years hurricane. Some parents may be trying to figure out how to talk to their kids about the destruction the storm casued. Ellen Seidman of Love That Max recently posted Helping kids with special needs understand the destruction of Sandy, in which she talks about reassuring her children and how she and her children have been helping out those in need.
I've told both kids repeatedly that our home is strong, the trees stayed strong, and that we are OK. I think it's important, too, to encourage empathy and our responsibility to help people however we can….
Max takes his hand and swoops it down. "Eeeee," he says. Tree.
"I know, some trees fell down," I say. We took a joy ride to the supermarket this weekend ("joy ride" because Dave waited three hours in line for gas and driving felt downright luxurious) and the number of trees that had fallen was mind-boggling. We'd collectively gasp when we came upon the bigger ones, lying across a road or on someone's home.
"UP!" Max says, raising an arm. "UP!"

Max wants the trees that have fallen to be lifted back up. "We still have a lot of trees," I say. "And then we can plant some new trees."

He ponders that, seems satisfied and turns over to go to sleep, snug and safe in his comforter.
Photographer Elizabeth Messina wrote An Open Letter to President Obama, which was published on Huffington Post's Parents page. In this powerful, emotiona thank you letter, Messina talks about raising a bi-racial son and how  President Obama has had a profound effect on her family, and many other families of mixed race.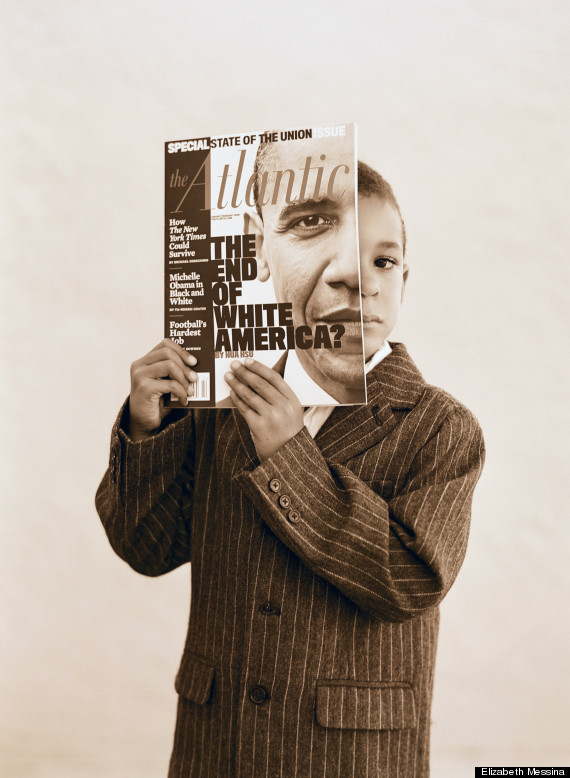 We were watching history unfold, a story that had a direct impact on our children. I felt this was especially true for my son because he could see himself in your face.
He was 5-years-old at the time you were elected president. And although I realize you were in the midst of pursing your dreams, you inadvertently simultaneously changed my son's life. Quite frankly, I believe you changed the lives of sons across the world. This, Mr. President, is no small thing. My son could see himself in you, the leader of our country, something no child of color had been able to do in America prior to your presidency. He was at an age when he had just become aware that my skin did not look like his. You gave my son in this moment something I could not.
Watch out, boys! There's a new football phenom on the grid iron, and her name is Sam Gordon. "According to her father Brent, who posted the video, there were 172 kids in her district who tried out for a Gremlin team," writes Chris Strauss of USA Today Sports. "During tryouts, Sam tested the fastest in every single speed and agility drill. Gordon ended up starting at quarterback for her team, which only called running plays. This was Gordon's first year playing football, which she tried after watching BYU games with her father." Check out the highlight reel Gordon's father made.